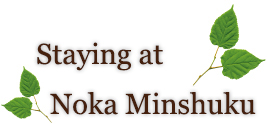 Yamato Kogen Region
Fill yourself with fresh air of the countryside and enjoy a peaceful time at the classical old Japanese house on the Ise Honkaido Road
Kominka Minshuku "Omoya"
This classical old Japanese house is over 200 years old and is built in the special architectural structure of Sashi Kamoi. They accept only one group per night so that you can fully enjoy your time there. Baking pizza, making smoked food, chopping firewood, harvesting wild plants... There is so much that peaceful Mitsue Village can offer. The house is located on the old Ise Honkaido Road on which people traveled to visit Ise Jingu Shrine in Mie prefecture, so hiking on the road as well as to Mt. Miune and Mt. Kuroso is recommended.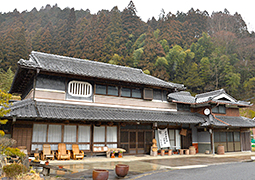 I was born and brought up in Mitsue Village and opened the Noka Minshuku in the hope of sharing the appeal of my home village with people. I hope you will enjoy a variety of experiences in every season.




Fukuo Tokuda

Particularly recommended is hiking on the Ise Honkaido Road. There are also live music events as well as markets.
Address
2415 Mitsue-mura Sugano, Uda-gun, Nara
Owner
Fukuo Tokuda
Number of rooms
2 Japanese rooms
(8 tatami mats each)
Capacity
8 people (one group only per night)
Rate
3,500 yen per person without meals, 4,000 yen per person with breakfast, 5,500 yen per person with breakfast and pizza baking experience, 1,500 yen for pizza baking experience, and more
*Minimum 2 people for the pizza baking experience and BBQ (reservation required one day before)
*Bring charcoal and ingredients for BBQ
Tel
080-6923-2197
URL
www.fukusan2415omoya.jp
Car park
Available
Activities
Farming experience
Pizza baking, chopping firewood, digging bamboo shoots, harvesting tea leaf and wild plants, making charcoal with rice husks, making smoked food, bread baking, BBQ, hiking on the Ise Honkaido Road
Meals
Bring your own food & ingredients.
Note

Meals are not provided
Bringing Food & Drinks permitted

Check-in: around 15:00,
Check-out: around 10:00
Free WiFi
*Bring your own pajamas and towels.
About 30 min. by car on Route 369 from Kintetsu "Haibara" or "Nabari" Station
*Pick-up service available (max 7 people) from Haibara or Nabari Station
By car: About 50 min. on Route 369 from the Fukusumi I.C. on the Meihan Express Way
*Caution: Roads may be icy during winter months.