Stay in a countryside village and enjoy it!
Have fun with your family or friends at a farm house.
An abundance of new discoveries and attractions await you.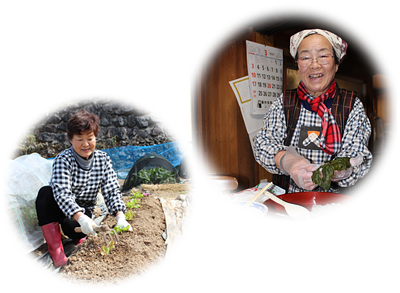 Stay at a Noka Minshuku and fully experience the attraction of life in a countryside village.
Visitors will be immersed in the natural surroundings and beautiful nature, savor delicious local food and discover interesting culture while having hearty exchanges with the local people.
In recent years, more and more people living in city areas are seeking interaction with those who live in countryside villages, and, thus, Noka Minshuku has come under the spotlight.
Appreciate seasonal natural beauty and nostalgic countryside sceneries.
Fall sleep to the sound of insects and wake up with bird songs – Spend relaxing and comfortable moments breathing the good air and smelling the earth and wind.
Relax and feel the slow flow of time – nothing beats the peaceful moments at Noka Minshuku. The starry sky will take you out of yourself into a mystical experience.
Savor local dishes full of seasonal blessings from the village – Only Noka Minshuku can offer such a delight.
Experience and enjoy farming and cooking vegetables which you never come across in city life.
Visit local festivals and historical sites and learn about the history and culture there.
Meeting people during your stay and nurturing friendships will become a lifetime treasure.