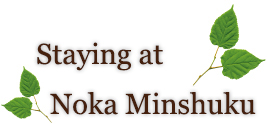 Gojo & Yoshino Region
Stay at a guesthouse in a small village where pure water springs forth
Kurasu Yado HANARE
Kawakami Village is located at the source of both the Yoshino and Kino-kawa Rivers and has flourished as one of the main forestry areas in the Yoshino region. A young couple moved here and opened this guesthouse after renovating the old house that was formerly the home of a person who worked in the nearby mountain. Guests can cook rice using the old-style kitchen oven and prepare their own meals in a traditional Japanese kitchen. Sitting on the porch one can enjoy the fine view along with the melodic sound of the nearby stream. Staying in this village will give guests a glimpse of a slow and peaceful life.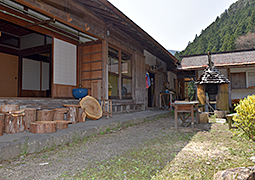 Staying in our traditional-style accommodation will let you discover how to enjoy "inconvenience" and to cherish every moment. We hope that our guests find pleasure and joy by creating their own life staying amongst nature.
Address
227 Nakaoku Kawakami-mura, Yoshino-gun, Nara
Owner
Hirohito Yokobori
Number of rooms
Entire house
Capacity
8 people (one group only per night)
Rate
8,500 yen (including ingredients of two meals)
An additional 2,000 yen during the holiday week in early May, July, August and end & beginning of the year
An additional 500 yen for oil and wood for heater from November to March
Children under school age: free of charge, elementary school students: 4,000 yen
Tel
090-7090-7892
Email
hanare.inkyo@gmail.com
URL
hanareandinkyo.tumblr.com/
Car park
Available (4 vehicles)
Activities

Farming and forestry experience
Chopping firewood, harvesting vegetables (depending on the season), playing in the river, cooking rice with traditional kitchen oven (additional fee required), moss ball and moss-terrarium making, eco-tour (reservation required)
Meals
Cook by yourself. Cooking rice with traditional kitchen oven (instruction provided). Cooking using vegetables harvested in the village (additional fee required), BBQ, making pizza with the pizza oven
Note

Entire house
Bringing Food & Drinks permitted

*Only NTT Docomo's signal for mobile phone is accessible in the area. WiFi provided in the accommodation.